Murray Bridge is a city in the Australian state of South Australia, located 76 kms east-southeast of the state's capital city, Adelaide, and 77 kms north of the town of Meningie. At the 2011 Census, Murray Bridge had a population of 16,708, making the city the fourth most populous city in the state, after Adelaide, Mount Gambier and Whyalla.
The city was originally known as Mobilong and later as Edwards Crossing, before being renamed as Murray Bridge in 1924, deriving its name from the road and railway crossings over the Murray River. The city is situated on the Princes Highway, the main road transport link between Adelaide and Melbourne.
The city services a farming area including dairy, pigs, chickens, cereal crops and vegetables (including "stay crisp lettuces").
Murray Bridge is in the traditional lands of the Ngarrindjeri people, who refer to Murray Bridge as Pomberuk. The first European explorer was Charles Sturt who camped there on 8 February 1830.
The first road bridge across the lower Murray was completed at Murray Bridge in 1879. The bridge also became a shared road and rail bridge in 1886 until the separate rail bridge was completed in 1925. The bridge was designed for 1,067 mm (3 ft 6 in) though in actuality, only 1,600 mm (5 ft 3 in) trains ever used it.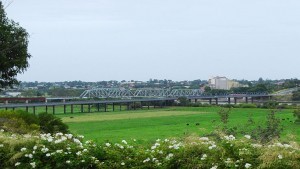 In 1979 the Swanport Bridge, carrying the South Eastern Freeway across the Murray River was completed 5 km downstream, removing most through traffic from the historic Murray Bridge.
Source: https://en.wikipedia.org/wiki/Murray_Bridge,_South_Australia